What is the Optomap?
Have you ever wondered what the inside of your eye looks like? The Optomap is like the ultimate selfie stick for your eyeballs. It is a diagnostic tool that allows our Optometrists to capture an ultra-widefield view of your retina, the light-sensitive tissue at the back of your eye.
The Optomap was created by a father, after his 5-year-old son's retinal detachment went undetected during his traditional eye exams. During an eye exam, eye doctors can see a portion of the retina, but getting a full view of the peripheral retina can be difficult and sometimes impossible. Hello wiggly, excited children; we're looking at you.
Why The Optomap is the Coolest Thing Since Sliced Bread
Early Detection: The Optomap helps our Optometrists spot the sneakiest signs of eye issues before they even think about causing trouble. From glaucoma to macular concerns, the Optomap is the ultimate sidekick that helps us save the day.
Eagle-Eye View: The Optomap captures 80% of your retina in a single snap. It's like having a backstage pass to your eye's rock concert. Our Optometrists can uncover potential issues that might have been missed through conventional methods.
Track your Eye Health: Think of Optomap images as your eye's photo album. We can compare images over time to catch even the tiniest changes. No mysteries, just cool eye facts.
For All Ages: From kids to seniors, the Optomap is suitable for patients of all ages. It's comfortable and quick. We've even taken Optomap images on a 6-month-old baby at risk for congenital cataracts!
Eye Opening Education: Ever been curious about the intricacies of your eye? Optomap images can be used to educate you about your eye health, fostering a deeper understanding of your own visual system.
Safe During Pregnancy: Pregnant women typically do not undergo eye dilation unless absolutely necessary for their eye health. Optomap technology is safe for expecting patients.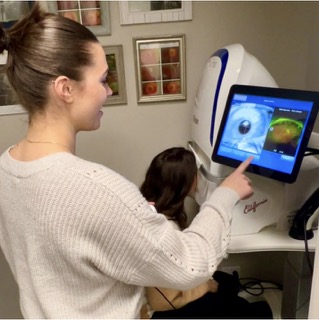 Ok, So What Can The Optomap Help Detect?
Some of the first signs of diseases such as stroke, diabetes and cancers can be seen in your retina, often before you have other symptoms. Optomap images can be an incredibly helpful tool in diagnosing, monitoring and treating a variety of eye conditions, including:
Diabetes/diabetic retinopathy
Tumours or lesions
Retinal vein occlusion
Paediatric retinal disorders such as Coats disease
Our Standard of Care
At Airdrie Family Eye Doctors, we are committed to exceptional eye care, and that's why we've made the Optomap an integral part of all comprehensive eye exams. By capturing a panoramic view of your retina, we're able to catch potential issues in their early stages, enabling us to intervene sooner and better preserve your vision. A picture truly is worth 1000 words. Book your next eye exam with us today.